Now you can travel – car-free – from downtown Seattle to downtown Port Townsend in just 2-hours without the hassle of climate impacts associated with driving your personal vehicle.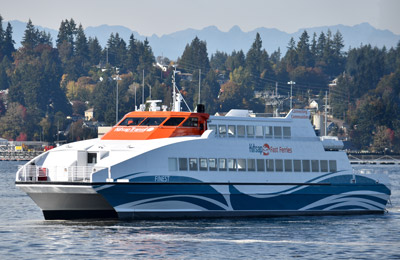 Imagine! Fast – vehicle free – transit between Seattle and the heart of the Olympic Peninsula in under 2-hours! Sit back and enjoy the sea and scenery along the way!
Here's how:
Thanks to partnerships between Jefferson Co. and Kitsap Co. Transit everyone can walk on and enjoy fast, scheduled travel between downtown Seattle and the Olympic Peninsula's Port Townsend.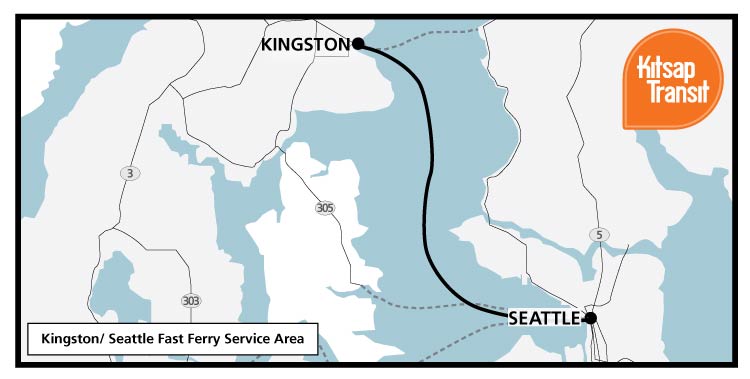 +
Check with both Kitsap and Jefferson Transit for their current schedules
Download this tri-fold brochure
Seattle to Port Townsend
Depart
Pier 50
Seattle Ferry Dock
Arrive
Kingston Ferry Dock
#14 Kingston Express Bus
(Kingston Ferry Terminal)
Four Corners Park & Ride
Port Townsend's
Haines Place Park & Ride
7:55 AM
8:34 AM
8:45 AM
9:44 AM
9:57 AM
3:25 PM
4:04 PM
4:15 PM
5:14 PM
5:27 PM
Port Townsend to Seattle
Port Townsend's
Haines Place Park & Ride
Four Corners Park & Ride
#14 Kingston Express Bus
(Kingston Ferry Terminal)
Depart
Kingston Ferry Dock
Arrive
Pier 50
Seattle Ferry Dock
7:15 AM
7:28 AM
8:27 AM
8:45 AM

9:24 PM

2:45 PM
2:58 PM
3:57 PM
4:15 PM
4:54 PM
Other Kington Fast Ferry sailings are also serviced care-of the Kitsap Transit #307 and Jefferson Transit #7 lines. Reference this brochure for details